In 1945, Marilyn S. Broad was born in Philadelphia and moved to Levittown Pennsylvania, a working class suburb of Philadelphia, when she was in middle school.
At the age of 23, Marilyn Broad took a job at Mobil Oil in the customer service office of the credit card division. Thirty years later Marilyn retired from Exxon-Mobil as director of Human Resources for the Pacific Rim.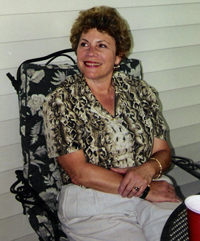 At the age of 53 Marilyn had traveled around the world several times, had parlayed her income into an impressive portfolio, and was respected and admired by CEO's as well as employees.
For many, especially women, she became a role model for how to succeed in the business world. Marilyn took advantage of every opportunity that came her way and created many of her own.
Marilyn was ambitious, but appreciative, aggressive, yet compassionate and was always available to those who needed her attention. She embodied qualities that made her an excellent leader, a loving friend and family member. With a fountain of information and an abundance of experiences, she was a terrific addition to any party.
Unfortunately, just as Marilyn was about to reap the rewards of her hard work she passed away. For those of us who knew her well, her desire to establish a foundation to carry out her most passionate concerns seemed a fitting legacy to a life filled with dedication, a love of people, and curiosity for those of different cultures and backgrounds.
Marilyn's foundation focuses on poverty, education, and health; three areas she felt she could make a difference for those who did not share her good fortune or opportunities. For her family it is a labor of love that moves us to carry on her wishes.